Skip Navigation
Website Accessibility
Patrick McDonald, owner and head technician, started repairing sewing machines and vacuums in 1977. His knowledge and experience has led to McDonald's Sewing & Vacuum being the only Dyson and Rug Doctor Service and Repair station in the region. His engineering background provides the technical know-how to handle electronic parts and pieces. If it can be fixed, Patrick can fix it!



Neil Kirkpatrick has more than 20 years of experience in maintenance. He has trained with Patrick and now performs service and repairs on vacuums and sewing machines. He is always ready to carry your machine in from the car, down to the basement for classes, or back to your car. He includes a smile and often a joke along with the outstanding service he provides.

Sydney Kendrick started sewing when she was 20. She likes to make purses, quilt top, scrunchies, or whatever else strikes her. If she sees a picture she likes, she can usually figure out how to make it. Sydney has been a member of Prayers and Squares at First Baptist Church in Ark City since 2017. She started working in the Ark City store in June of 2020. She has an awesome giggle and keeps us all laughing.
Dalene McDonald learned to hand embroider before she could write. She made many of her own clothes when she was in high school and college. Dalene began quilting in 2003 and purchased her first Viking sewing machine in 2006. She loves all kinds of sewing, quilting, machine and hand embroidery, and also offers longarm quilting services.

After 30 years as a librarian, Dalene became an Inspiration Consultant for dime (Designs in Machine Embroidery) and conducted embroidery events around the country before transitioning to work full time at the stores.



Rick Hobbs is a retired Air Force mechanic...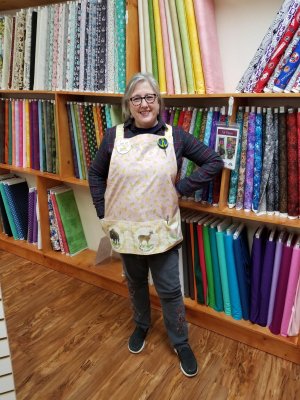 Randi Whalen joined us in 2022...